The FAST Drill Shooting Drills
The FAST Drill
Range: 7 yards
Target: 3×5 card (head), 8″ plate (body)
Start position: weapon concealed or in duty condition with all holster retention devices active; shooter facing downrange in a relaxed stance with arms down at sides
Rounds fired: 6
C.T. pistol-training.com Todd Louis Green
Instructions
Draw
Fire two rounds at the 3×5 box
Perform a slide-lock reload
Fire four rounds at the 8″ circle
Official FAST target:
fast-target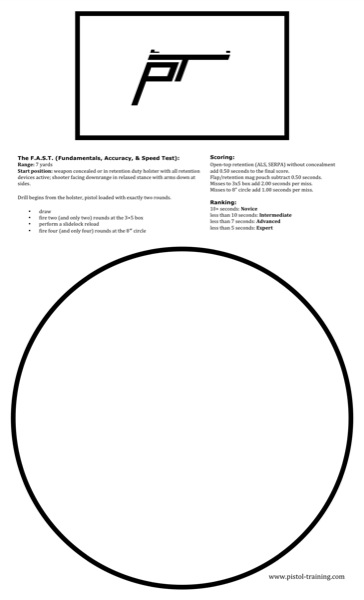 https://pistol-training.com/wp-content/uploads/2007/09/fast-target.pdf
Click the image to download and print on 8.5×14 legal-size paper.
Scoring
To count, the FAST must be shot from concealment or from a recognized retention holster. Open-top retention holsters without concealment (e.g., Blackhawk SERPA, Safariland ALS) add an additional 0.50 to the shooter's time. Using both a standard duty retention holster (e.g., Safariland SLS, SSIII) as well as flap/retention magazine pouches will result in a 0.50 reduction in recorded time.