10 Round Assault Course
10 Round Assault Course
Range: 25yd, 15yd, 7yd, & closing
Target: NRA B8 replacement centre
Start position: holstered
Rounds fired: 10
Credit to Pistol Training.com by Ethan Johns of SWAT Magazine
Target is a standard NRA B8 bullseye replacement centre. Scoring is for actual points so a 10-ring hit is worth a lot more than peripherals.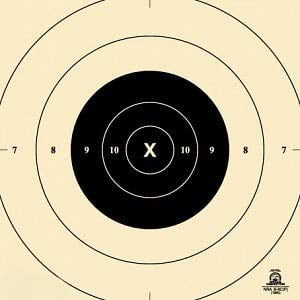 Instructions
Start from the holster at 25 yds.
On the buzzer, draw and fire two rounds (2).
Advance to the 15yd line keeping the gun safely in control, and fire two (2) rounds.
Advance to the 7yd line keeping the gun safely in control, and fire three (3) rounds.
Fire three (3) more rounds while advancing forward from the 7yd line.
The scoring is simply listed as points and time. Ethan recommends using 80 points in 20 seconds as a passing score.
Using a B8 target centre instead of the big zone of an IPSC/IDPA target is what makes this such an interesting drill. Being able to turn in precision at speed (especially at the 25 and 15yd lines) is very representative of the performance standards Ethan and his military colleagues expect in their real-world day jobs.
This and Ethan's other new test appeared in the January 2014 edition of SWAT Magazine.
Credit to Pistol Training.com by Ethan Johns of SWAT Magazine
Training with firearms is an inherently dangerous activity. Be sure to follow all safety protocols when using firearms or practicing these drills. These drills are provided for information purposes only. Use at your own risk.